February 18th, 2013 by Steve Pavlina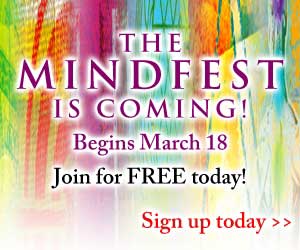 Last year I helped promote a free online event called the Ultimate You Mindfest. It was a weeklong series of short, punchy audio coaching sessions to condition your mind for positive thinking, success, and action orientation. This Mindfest was extremely popular with my readers, and I received many appreciative emails about it afterwards. As a promotional event, the Mindfest also did so well for the people running it that they've decided to run it again this year. They're not just rerunning last year's recordings — this year's content is all new.
The Mindfest is completely free. If you like the program, you have the option to buy the recordings afterwards. But you could also listen to the whole thing for free when it broadcasts if you like, and you have plenty of leeway for that — you don't have to listen at a set time of day, just within a particular day's window.
I went through the entire Ultimate You Mindfest when it was broadcast last year and really liked it, and I know the organizers behind it, so it's a no brainer for me to help promote it again this year, especially since they've created fresh material for it.
The Mindfest is hosted by Paul Scheele, who co-founded Learning Strategies 32 years ago. Paul is an acclaimed expert of human performance, Neuro-Linguistic Programming (NLP), accelerated learning, and preconscious processing. Paul is also a friend. I can tell you that he's very passionate about understanding how the mind works and helping people improve their lives. He's also very good at teaching what he knows.
Over the course of 6 days, Paul will share the following lessons:
Day 1 – Make More Money: Clear away blocks to having plenty of money
Day 2 – Sharpen Your Memory: Overcome uncertainty and forgetfulness
Day 3 – Attract What You Want: Make the Law of Attraction work for your success
Day 4 – Be Free of Anxiety: Be fearless, strong, and successful
Day 5 – Kick-up Your Instincts: Use your intuition to make better decisions
Day 6 – Improve Your Health: Reduce stress and avoid illness
Bonus – Get to Your Ideal Weight: Use your inner mind to help you lose extra pounds
For each day of the course, you actually get two programs — one lesson from Paul and one Paraliminal to listen to.
The Mindfest is free, so it won't cost you anything. You'll have two new programs each day that you can stream from your computer, tablet, or phone. If you miss a day, that's no problem since each day of the Mindfest is designed to stand on its own. Feel free to listen to whichever sessions most interest you if you're short on time.
The Mindfest officially begins on Monday, March 18th. I suggest that you register for it now (which takes about 2 seconds). That way you'll get a reminder email when the Mindfest is about to begin. There's also a contest with some nice prizes you could win.
Paul's material is a great complement to mine since my core focus is on conscious growth, while Paul explains how to upgrade the patterns and behaviors of your subconscious mind. It's difficult to make progress if your subconscious habits keep getting in your way.
Days 1 and 3 of this Mindfest should be a nice fit for those who've been following my passive income series as well. You can use the tools that Paul shares to help condition your subconscious behaviors to be more congruent with your income goals, so it becomes easier to take action from a place of inspiration and flow, and you don't suffer from procrastination and self-sabotage.
Visit the Ultimate You Mindfest website to get started. I'm signed up for it myself.