December 12th, 2012 by Steve Pavlina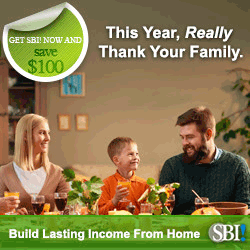 Site Build-It is now running their ever popular 2-for-1 holiday special, which they do every year at this time. With this special you can start two different web-based passive income streams for the price of one of their educational and hosting packages. This is their best deal of the year, and it's good through midnight on January 3rd.
Many people use one package for themselves and give the second as a gift for a friend or family member. Giving someone a gift that can make them money is a nice way to win them over.
See my previous Site Build-It review for more details about this service and why I've been recommending it for years as a great way for people to earn money online.
Compare SBI with Other Options
SBI is one of many options available to you for building a web business. I recommend it because it compares very favorably to the other typical approaches, which don't offer nearly as much value for what they cost.
For details on some comparisons between SBI and other options, see:
Speaking to those last two, I am a very successful pro blogger, and I do use WordPress, but I still recommend SBI as an easier and more effective choice for most people. Review the links above, and you'll understand why.
SBI continues to invest for the benefit of their customers and recently spent millions of dollars upgrading their service, so if you haven't checked it out recently, be sure to give it a fresh look.
Who Can Succeed with SBI?
One suggestion for would-be SBIers: The people who succeed on this path are those who commit to it with a healthy respect for the seriousness of creating and owning a real, honest, value-providing, money-making business. The dabblers who want something for nothing won't get very far. In fact, the various pages on SBI's website frequently seek to weed out the dabbler types and discourage them from signing up for the service. Why? Because those people make lousy customers. Those are the people that give up after a few weeks and ask for a refund (which SBI readily gives them). SBI's business model isn't based on getting a bunch of impulse purchases from flaky dabbler types. SBI wants mature-minded customers who'll build real income streams, so those customers will be making good money and will therefore stick with SBI year after year because they're drawing tremendous value from this type of partnership. And ideally SBI would love to see their customers buying more packages and creating more businesses that endure for years, if not decades.
If you're a dabbler looking for some kind of short-term get rich quick scheme that will magically pay your bills without requiring any actual creative work from you, please don't bother with SBI because it's not intended for those kinds of lazy-minded folks. Rather, SBI is a service that helps entrepreneurially minded people with the tools, education, and hosting they need to build, launch, and successfully manage profitable online businesses that generates stable income year after year.
While SBI is intended for people who are ready to build a real business, this is a matter of attitude and mindset, not a requirement that you be an experienced entrepreneur. The service is designed to hand-hold you through the process if you're just beginning on your entrepreneurial path. Dabblers simply don't do well as entrepreneurs — or on any serious career path for that matter — because they're too flaky and don't persist long enough to make it into the long run, where results (especially income) begin to accumulate. So if you know yourself to be the dabbler type, don't expect SBI is cure you of that. For those people I recommend you read my six-part self-discipline series and begin building up your discipline muscles first.
The nice thing about SBI is that you don't have to do it full-time. It's a great fit if you just want a part-time business on the side, such as if you're a student looking to pay off your student loans, a retiree wanting to enjoy extra passive income, or if you simply enjoy working from home and would rather not have to commute to work each day. I've been working from home and quite enjoy it, and when I want a change of pace I can work from anywhere. Right now as I type this, I'm working from a local coffee shop.
If you see yourself as a person with the self-discipline to start an online business today and to still be running it profitably 5 years from now and enjoying the long-term rewards of entrepreneurship, then SBI would be a great match for you. You'll be free to focus on the creative side of the business while SBI handles the technical details and heavy lifting. But if you're the kind of person who switches careers every 6-12 months, then I don't expect SBI would be a good match for you.
It's been said that there are a thousand different success principles, but none of them work without self-discipline.
SBI Case Studies and Proof That It Works
When I tell people about SBI, they often want to see proof and examples of what others have done with it. So if you're curious to hear from some actual SBI users about their experiences with the service, see this page as well as these SBI case studies, success samples, results, and proof.
Using SBI with Different Business Models
SBI is a very flexible platform, so it works with a variety of business models. If you want to learn more about how to use SBI for a variety of online income streams, check out these pages:
Fortunately you can also mix and match different income streams, so you're not stuck with just one. I enjoy a variety of income streams from my website, which collectively add up to tens of thousands of dollars per month. Yet many people tell me that when they look at my website, they conclude I'm probably not making much money from it since the site isn't cluttered with a bazillion ads. It's quite possible to build a website that generates plenty of income without turning it into pop-up city.
SBI in Other Languages
SBI is international too, so if you'd like to learn about using their service in a language other than English, see these pages:
If you'd like to learn even more about SBI and connect with them via social media, you can follow them through these outlets:
I'd especially recommend that you follow SBI on Facebook since they occasionally run exclusive specials there.
SBI Questions
Many people have additional questions about SBI and want to make an ultra-informed decision. Starting a web business is indeed an important life decision that you should make with careful consideration. If you have more questions about their service, please take advantage of their special questions form. You can ask anything you want about the service and get a response from an experienced SBI customer.
Share Your Success
Once you have your SBI business up and running, please do let me know about it. I love hearing people's success stories and checking out the different business ideas they're implementing. I've been earning income online since 1995, and most of the money I've earned in my life has come via the Internet (well into the 7 figure range now). I love-love-love that it's possible to make a great living this way without needing a job or a boss. It's a pleasure to connect with like-minded people who are also committed to their freedom, growth, and prosperity.
Incidentally, one of the best perks of having an online business is going out Christmas shopping or traveling and knowing that your website is earning money faster than you're spending it, even when you're not working. If you're not enjoying that sort of reality right now, you could be enjoying a stress-free holiday season like that in the future — and many more. The same holidays will come up again and again no matter what. Once you get the financial abundance part of your life handled, the holidays are a lot more enjoyable. While it may be true that money can't buy happiness, financial stress can certainly get in the way of happiness for many people, especially at this time of year. A decent online business that brings in extra income month after month and year after year is an effective way to take the pressure off, so you can truly let go of work and enjoy nice moments with friends and family at this time of year.
Only you can decide if SBI is a good fit for you. If it is, here's the sign up page.